As provinces prepare to gradually re-open, Canadians are cautious about accessing in-person health care. With the potential for a second wave of COVID-19, this may hold true until a COVID-19 vaccine is developed. While attitudes evolve, the number of virtual health care resources and tools available to Canadians is growing.
The stats
Greenshield Canada recently surveyed employers and employees to understand their current perceptions. The survey, which polled more than 500 group benefits plan members, found that while 62% said they'd be open to visiting the dentist in the pre-vaccine period, 25% wouldn't. In-person visits with paramedical practitioners were less likely, with just 34% of respondents saying they'd attend a physiotherapy appointment, while 29% would go for a massage, and 28% would visit a chiropractor.
It's not surprising that survey respondents expressed a strong interest in virtual care options. Almost three-quarters of those surveyed (74%) said they'd be willing to use a virtual service to consult with a doctor, 67% said they'd fill a prescription at an online pharmacy, and 43% said they'd be open to accessing online mental health support. Respondents aged 18 to 34 were more likely (63%) to find virtual care options appealing when seeking out treatment for issues related to mental health.
One quarter of respondents said they'd be interested in accessing physiotherapy virtually. This shift in attitudes and behaviours is reflected in the Sanofi Health Survey results. Results of the survey, which was carried out before the COVID-19 pandemic, shows that coverage for 24/7 virtual care is a Top 10 benefits plan priority for both plan sponsors and plan members. The 2020 Sanofi Canada Healthcare Survey found that 71% of plan members would use virtual care.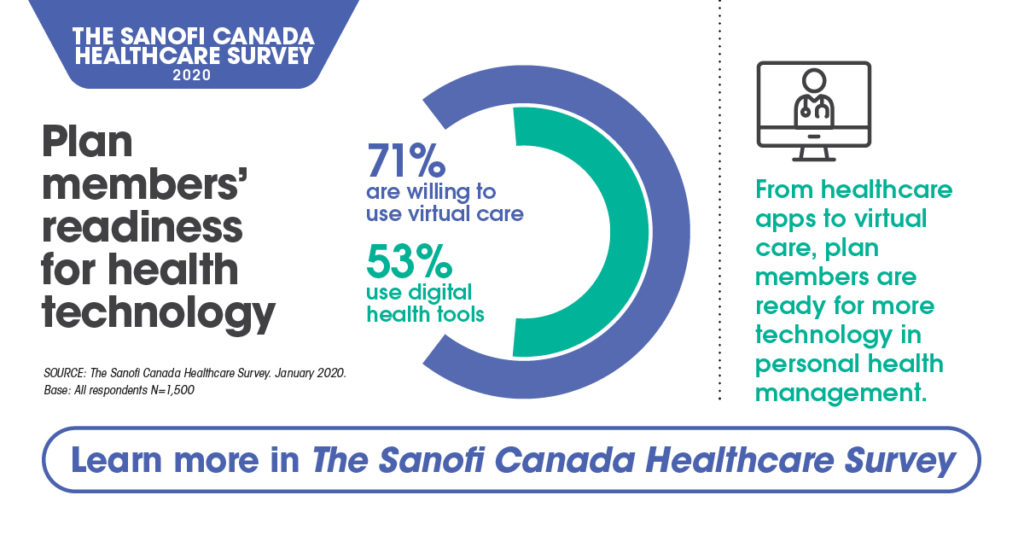 These demands have driven insurance carriers and group benefits plan providers to support Canadians by providing access to virtual tools and services.
Virtual health care guide
Many provinces have approved coverage for virtual health care, and these services along with those available through People Corporation, provide a broad range of solutions. People Corporation's virtual health care guide provides information on a wide range of virtual health care services available. Solutions include:
Virtual health care options available through provincial coverage
People Corporation's proprietary virtual health care services which include:

People Connect that provides access to virtual mental health care services and

People Connect Total Health that provide a complete virtual health care solution including access to doctors, enhanced mental health care, a digital pharmacy, and home delivery of medications

Virtual physiotherapy
Health coaching service for chronic disease management
These solutions provide access to treatment patients can access from the comfort and safety of their homes.
We recommend that plan sponsors consult with their advisors to help them navigate through the options and provide guidance on how to maximize support for plan members and their families.
This is a challenging time for plan sponsors. Resources like these are essential tools that can help plan members return to work, feel safe and supported, and position themselves for success.