Plan administrators are facing budding trends, including the potential of a national pharmacare, the emergence of medical cannabis, and targeted specialty prescription drugs. Providing sustainable group benefits while staying ahead of the cost curve is challenging as ever.
But it is possible. By modernizing your approach. To do so, here are a number of items to consider as you look at your benefits strategy:
Formularies and precision medicines
As we unlock insights about our unique biological coding, predictive analysis can link genetic mutations to the onset of disease. This is enabling pharmaceutical breakthroughs, which in turn are driving the development of precision medicines, many of which have already passed clinical trials and entered the market. Coupled with pharmacogenetic tests, we are gaining the capacity to not only predict when patients may respond well (or poorly) to certain drugs, but also to treat the genetic cause of diseases rather than the symptoms.
Despite the increase in designer drugs, biologicals and speciality drugs available in Canada, Telus Health reports that Private drug plans in Canada saw average eligible monthly costs decline by 2.6% in 2018. Some regional variations exist. Across all age groups, average eligible monthly costs per insured increased by 2.9% in Quebec, compared to small declines in Western Canada (-0.1%) and Atlantic Canada (-0.9%). In Ontario, eligible monthly costs dropped by 6.8% across all age groups, reflecting the impact of OHIP+ (which has since been reversed). When insureds aged zero to 24 are removed from calculations, Ontario is in line with the rest of Canada (-0.7%).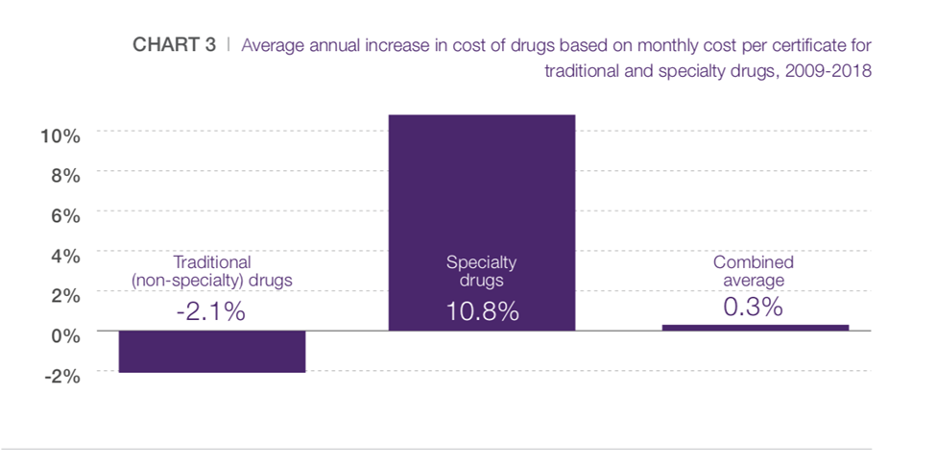 But the current lull in drug costs doesn't tell the full story. Some experts believe that Canadian drug costs are about to once again rise as much as 5-8% per year. One way to tackle these increases is to introduce managed formularies to your drug plan. Managed formularies introduce more controls within your prescription drug plan while still offering plan members the best possible outcomes for their conditions. Speak to your consultant about the best formulary for your groups' specific needs.
National Pharmacare
Eric Hoskins, Chair of the Advisory Council on the Implementation of National Pharmacare, has submitted a report that estimated roughly 20% of Canadians either have inadequate or no prescription drug coverage. These are the people without group benefit coverage. The council recommended that Canada establish a new drug agency to cover an initial list of common and essential drugs by January 1, 2022, with an expanded comprehensive plan envisaged for implementation on January 2, 2027. It is the latter statement that will ultimately affect employers. Group benefits providers and employers alike are awaiting further guidelines from the government. The decision will either mean a reduced cost to employers going forward, or the introduction of a new employer tax.
Administration
Often times, employers want to make changes to the group benefits plan, but are afraid to create disruption for their business operations and for their employees. For this reason, third party administrators (TPAs) are one of the fastest growing sectors in employee benefits. When working with a TPA, employers can change providers anytime without any disruption to the business or employees; making change management seamless. TPAs have access to more product innovation with more choice for employers. By modernizing their administrative capabilities, employers are setting themselves up for success in the future. Visit the Third Party Administrators' Association of Canada (TPAAC) website for more information and a trusted list of TPAs.
Payroll
According to the CPA's 2019 Survey of Payroll Professionals, 82% of members believe payroll's role in managing group benefits is often overlooked. That needs to change. Payroll should be involved at the outset of a group benefit plan implementation as they can be a valuable and essential partner to the team. Payroll professional look at the impact of financial and tax regulations that the group benefit plan may have, and look to reduce the complexity of managing them. They can provide insight on how to stay in compliance, improve administrative processing, and conduct proper financial analysis and reconciliations. Payroll professionals understand the implications of financial and taxation laws on group benefits and how those laws affect payroll in maintaining compliance. Your payroll team can offer assistance by providing information on the impact on the overall payroll cost, compliance regulations, and the impact on employee's pay.
As the CEO of General Electric once famously said: "Change before you have to", and in today's group benefits world, that remains truer than ever. By implementing any number of the solutions presented, you'll be modernizing your group benefits plan, which will optimize the plan for your members, while helping you save money.
Jeffrey Stinchcombe is a Partner at People Corporation. He is the lead instructor on CPA's Best Practices of Employee Benefits course.