Many of us find ourselves in a state of uncertainty as we plan for a return to the office and a re-opening of communities. Though there have been job losses, the majority of Canadians have not stopped working.
Essential workers have continued to work the front lines, while others adjusted to working in a remote environment. Families with young children were tasked with managing the demands of full-time parenting and work commitments, with no way of seeking help from family and friends. Many individuals found their hours, roles and pay cheques either reduced or significantly modified.
Older Canadians have been direly impacted by high numbers of nursing home deaths, extreme isolation and fear. This pandemic has been unforgiving to our vulnerable parents and grandparents. Despite the differences in the impacts felt from COVID-19, what is universally true for all of us is we did not see this coming. We were not expecting to be affected by this virus the way we have been.
As workplaces plan for a return to the office, many are focusing on impacts that COVID-19 has had on our mental health. A new publication shared by the Harvard Business Review suggests that while there are clearly mental health impacts in post-trauma situations, there are also simultaneous opportunities for positive change and growth.
Dr. Richard Tedeshi states "individuals and organizational leaders need to recognize that traumatic, unexpected events can be catalysts for growth and change. Events can cause people to reconsider dearly held beliefs; cause us to question things about oneself. This can be called Post Traumatic Growth[1]. Post-Traumatic Growth (PTG) is the experience of unexpected events that have shocked and traumatized us, leading to a re-evaluation of our norms and expectations. This can be a total transformation of how we live, work, and socialize.
To evaluate to what extent someone has experienced this type of growth we can look for positive responses in five areas[2]. These areas are referred to as the PTG inventory and may include:
Greater appreciation of life
Improved relationships with others
Appreciation of new possibilities in life
Increased personal strength
Spiritual change
Resilience
As we focus on return to work, we can also examine resilience literature and its intersection with PTG. Common elements remind us that resilience is coming back stronger and better after being challenged and facing difficulty. The key element of resilience is not just coping, but growing. Resilience is a personal attribute or something we develop purposefully over periods of time. PTG is more reactive and not always a conscious or planned experience.
"Resiliency is the ability to bounce back, and PTG refers to what can happen when someone who has difficulty bouncing back experiences a traumatic event that challenges his or her core beliefs, endures psychological struggle and then ultimately finds a sense of personal growth."[3]
If you find yourself struggling to cope, needing support and wanting to make sense of your experiences, therapy can help. At both the individual and collective/organizational level it can be important to have someone to talk to and to help in a way that can support and foster healthy growth.
Implications for the workplace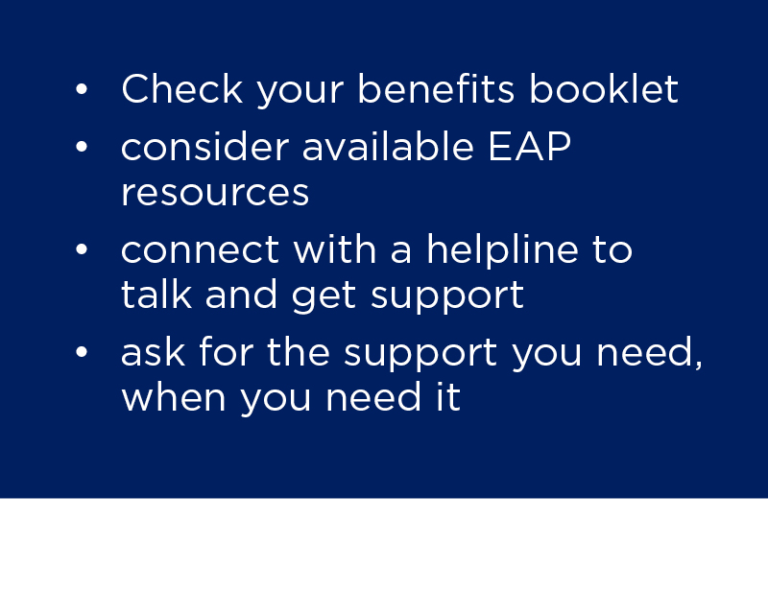 In the aftermath of difficult events, there is an opportunity to promote positive change, and we can decide what these changes may be. While we plan for a successful return to work, there can be opportunities to maximize growth and change at the individual, team and organizational levels.
Organizations are looking at new and inspired ways to manage their workforces safely. Many are also looking at ways to improve work-life balance, use of office space, and business operations. Essentially, this unexpected mutual experience is an opportunity to look for collective improvements and growth as an organization. At the leadership level, COVID-19 may cause the same deep evaluation of common beliefs that we experience at the individual level. This can include a re-evaluation of how the business has evolved, its workplace culture, business goals and objectives, and how each of these factors align as stakeholders consider the future.
Written by Judy Plotkin, Vice President, Health Solutions at People Corporation.
---
[1] Journal of Traumatic Stress, Richard Tedeschi, PhD, and Lawrence Calhoun, PhD, 1996
[2] Managing People, Dr. Richard G. Tedeschi, Harvard Business Review July 2020
[3] Growth after Trauma. Why are some people more resilient than others—and can it be taught? Lorna Collier, Vol 47, No. 10 (Dr. Kanako Taku, associate professor of psychology at Oakland University) November 2016